Beta Long Range Kit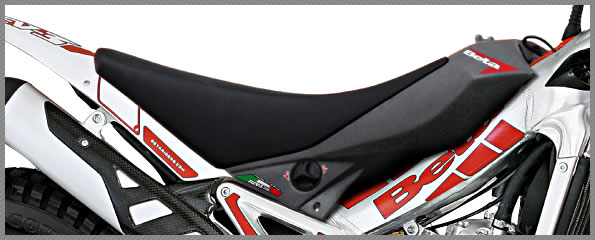 Check out this item straight from Beta Motors - A long range seat and tank assembly for your Rev-3 or Evo! It takes about 2 minutes to install* or remove and, because itís from the Beta Factory, you know itís going to fit your bike exactly right and will have Beta quality written all over it. This gem will add a full 4 liters of fuel to your stock 3 liters, giving you unprecedented range for a trials bike. This kit is designed for any full-size version of the Rev-3 and Evo, 2-stroke or 4-stroke, but for bikes 2000 or newer onlyÖitís not designed for the Techno or Zero series. Currently holding at $549.00, and our kits come with a fuel line quick-disconnect included!
NOTE: This is made specifically for 2000+ Betas! It will not fit any other brand without a lot of engineering. No, we haven't tried to adapt it to anything else.
*After initial installation of hardware.